#1 Dumpster Rental Gretna for all of Your Projects
Finding an affordable and convenient dumpster rental Gretna has never been easier than with our team of professionals! Whatever your roll off needs are, we're here to provide top-quality service and competitively priced options for Gretna, Nebraska, and surrounding areas. We pride ourselves on providing transparent communication and pricing, so our customers know exactly what they're signing up for from the very beginning. With our dumpster rental Gretna NE services, we'll manage the waste so you can focus on your project at hand.

Our dumpster rental Gretna company is well-established as a dependable, cost-effective, professional business that works hard to meet our customer's needs. We think the Gretna NE dumpster rental process should be smooth and straightforward, which is why we've spent an abundance of time building our convenient online booking system. It's easier than ever to book containers online through our website from the comfort of your home.

Residents of Douglas and Sarpy counties can rely on our team of experts for all of their roll off dumpster rental Gretna needs. We're the #1 choice to manage your waste management for residential or commercial projects because we care about your wallet, time, and goals. Get in touch with our team today at (402) 979-5900 or book your dumpster rental Gretna now through our website!
Your Trusted Dumpster Rental Gretna NE Company
Don't spend hours searching for the best dumpster rental Gretna NE company when our team of reputable, trustworthy, friendly experts is here to help guide you through the rental process each step of the way.

We've become the top choice for residents, property owners, and contractors because our Gretna Nebraska dumpster rental services are as affordable as they are convenient. Not only do we offer competitive rates that get the job done, but we work diligently to dispose of all waste in sustainable, legal ways. We regularly partner with Sarpy County Landfill to ensure your waste is managed in accordance with all city, county, and state regulations, so when you rent from 402 Container, you can be confident that you're renting from a reliable dumpster Gretna that you can trust.


We regularly work with local school districts, apartment complexes, retirement homes, contractors, and individual homeowners to provide top-quality dumpster rental Gretna NE options for a wide range of project goals. We make it convenient and straightforward to book our dumpster rentals in Gretna Nebraska so you can focus on the important things. Don't fret the mess. Call our experts to haul away the waste so you can get back to business. Book our dumpster roll off rental Gretna options online today!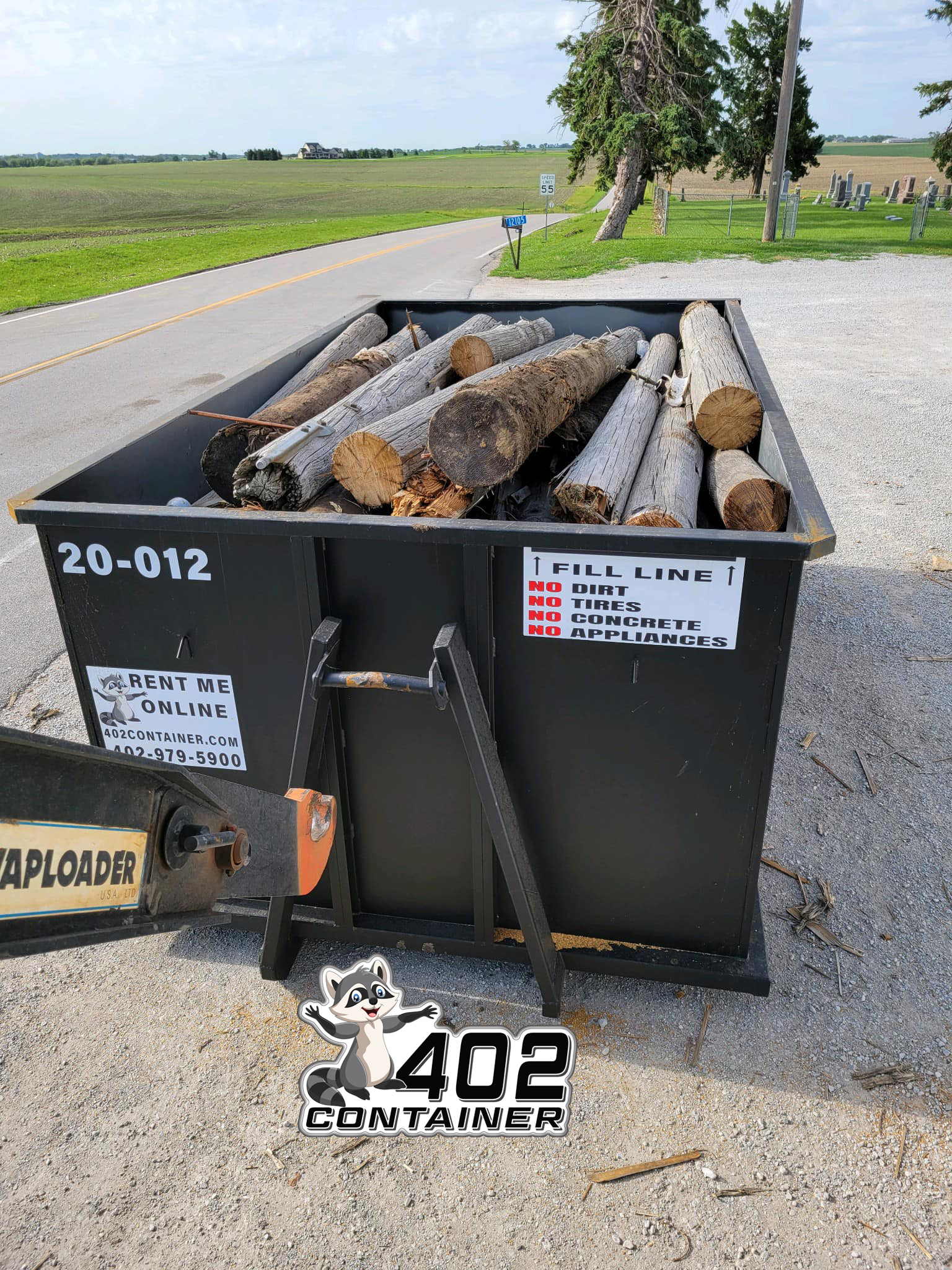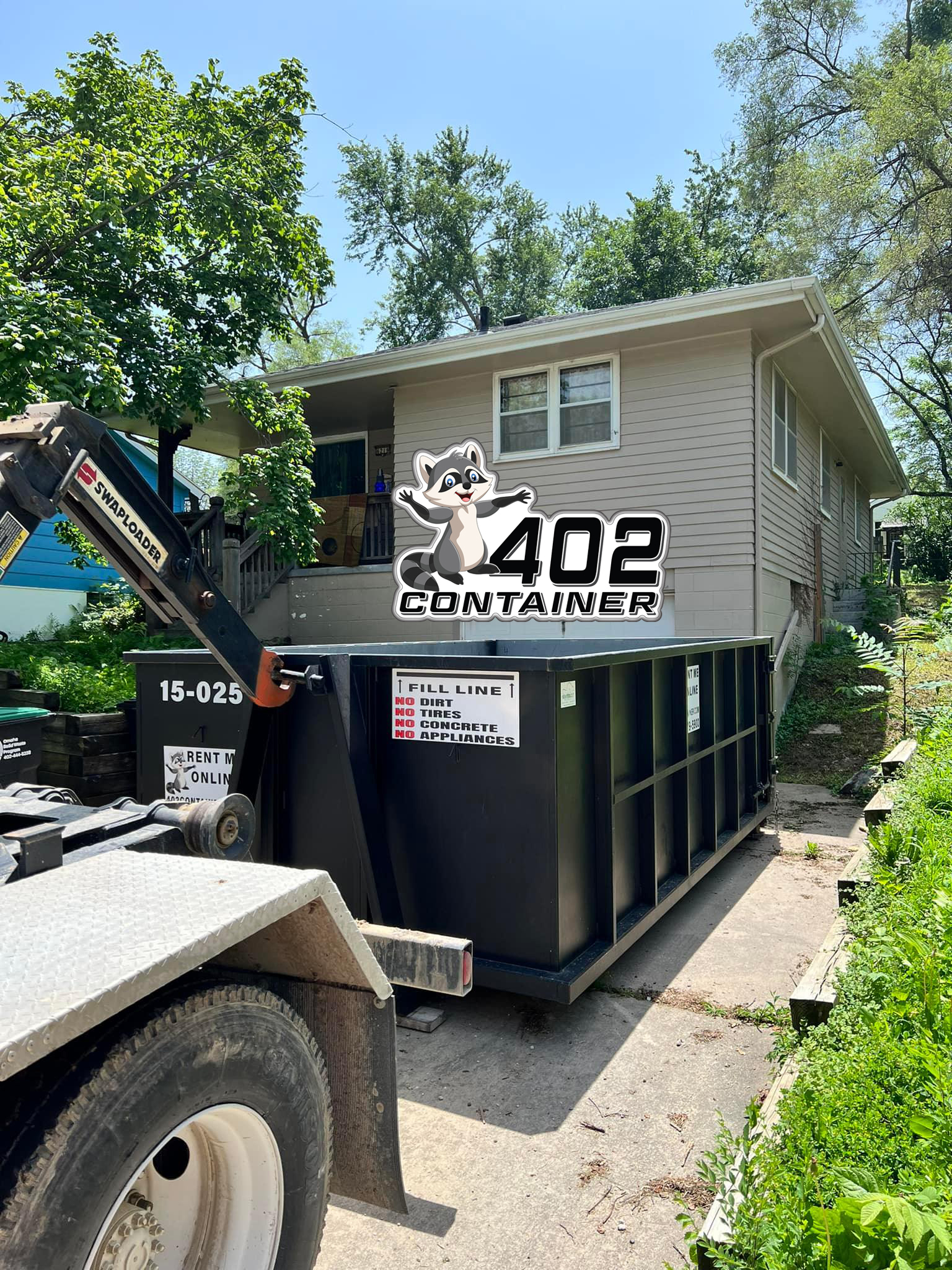 Dumpster Rental Gretna Prices and Project Uses
We understand that dumpster rental Gretna prices are a major factor in moving forward on a project, which is why we offer three cost-effective container options to suit a variety of needs. No matter the goals, timeline, or budget of your upcoming projects, we're here to help.

Scheduling a container dumpster rental Gretna is beneficial for a wide range of projects, ranging from residential to commercial. Whether you're sprucing up your landscaping, cleaning out the garage in preparation for a sale, or working on a local demolition project, our expertise, affordable rates, and range of sizes will make a valuable addition to your project. Our dumpster rental Gretna prices and sizes are guaranteed to suit your needs.

No matter the size of your project, our durable, versatile dumpster Gretna Nebraska options will get the job done. We're available to provide ongoing waste management or short-term support. Our affordable selections for yard waste cleanup, development sites, demolition, roofing repairs, and so much more will make your work a walk in the park! Get started on your home improvement goals or remodeling with the confidence of knowing you'll be receiving excellent customer service, on time delivery, and competitive prices.

We understand many people are searching for the cheapest dumpster rental Gretna, but not only do we offer amazing prices, we promise customer satisfaction and smooth, stress-free rental process. When you're ready to take the next step on your dumpster for rent Gretna, get in touch with our team at (402) 979-5900 or book online now!
Dependable Residential Dumpster Rentals Gretna
Spruce up your home and clear out the clutter with our convenient and affordable residential dumpster rentals Gretna. We understand how taxing it can be to plan a large project like repairing a roof, remodeling a bathroom, or preparing for an estate sale, which is why we offer easy-to-use online booking so you can schedule a dumpster in Gretna from the comfort of your own home 24/7.

Our reliable and affordable dumpster rentals Gretna are best suited for a wide range of residential projects, including single-room renovations, deck or patio repairs, attic or garage cleanouts, appliance upgrades, downsizing, and everything in between. With our dumpsters Gretna rental, you won't think twice about calling our team before getting started on your next big project. Don't stress about the mess! We're here to help when you're ready to rent a dumpster Gretna NE for your residential needs.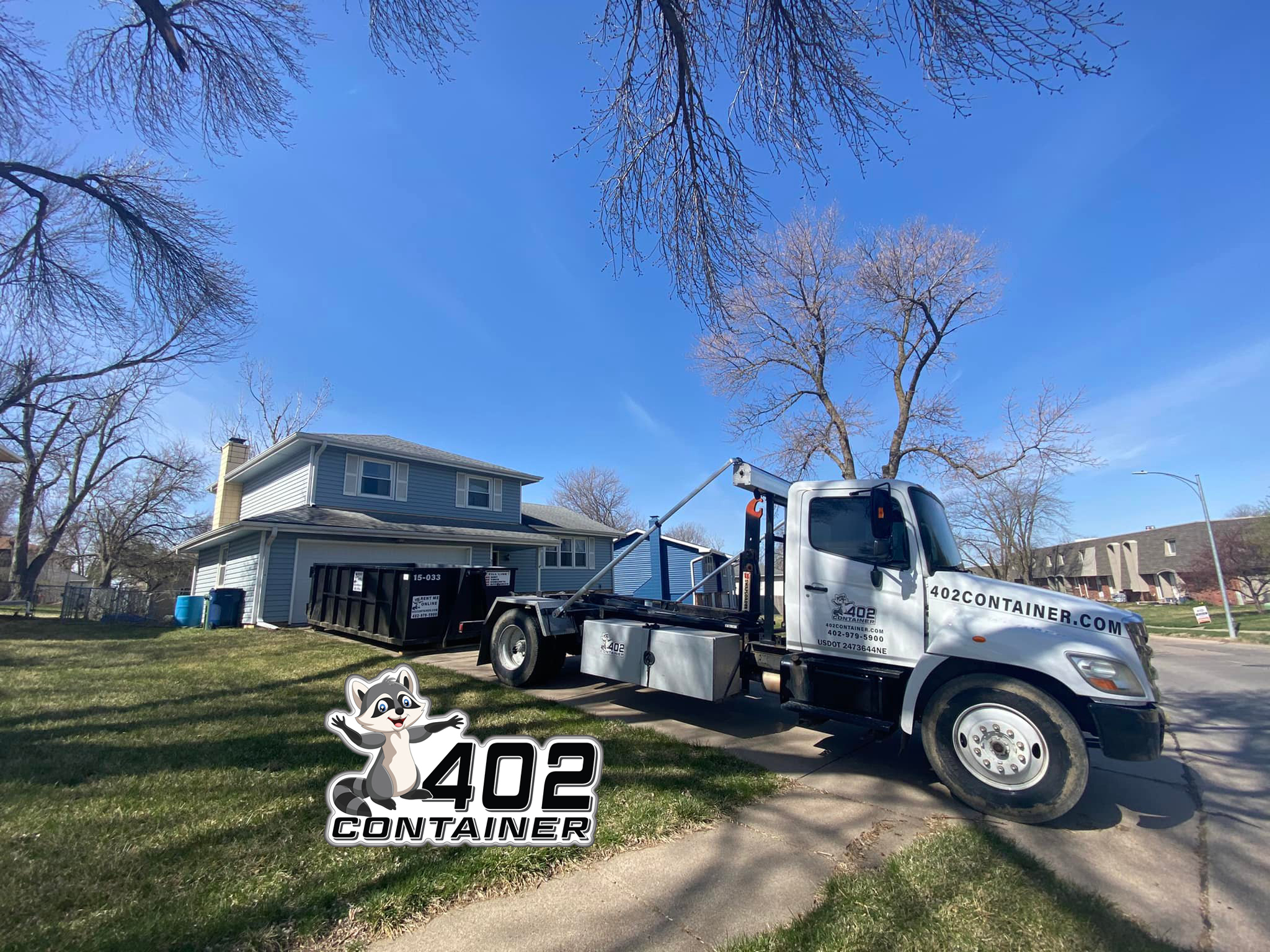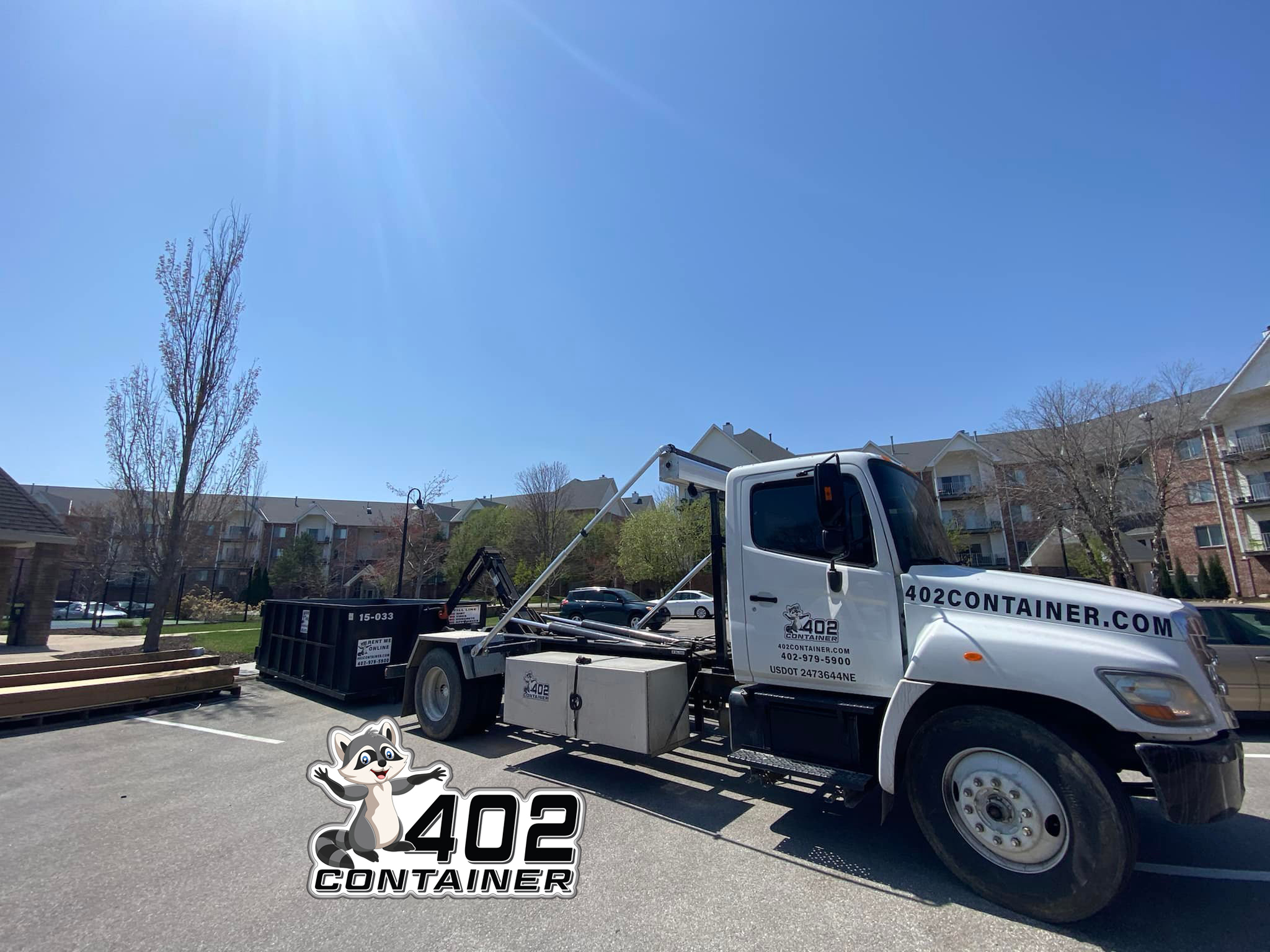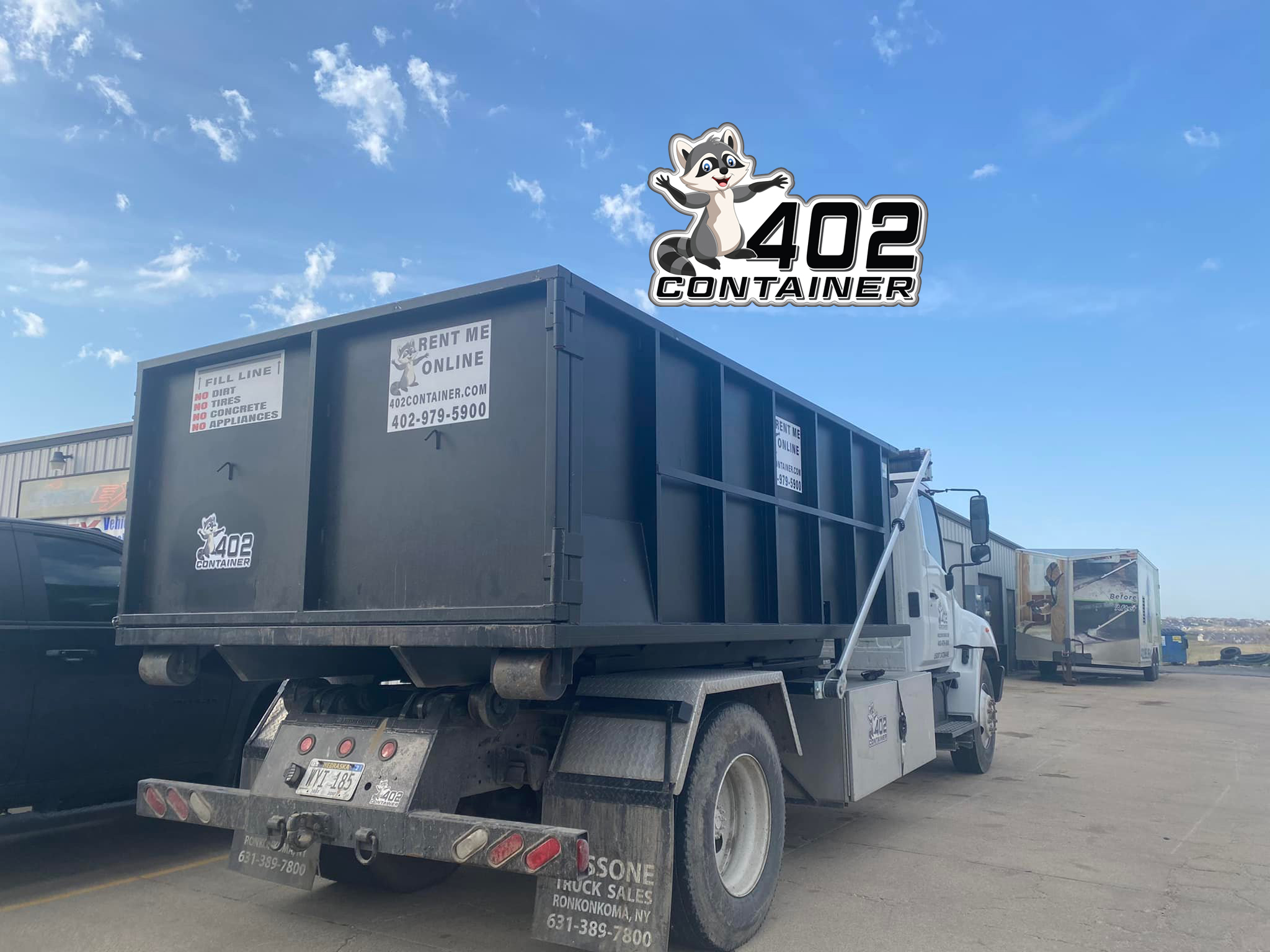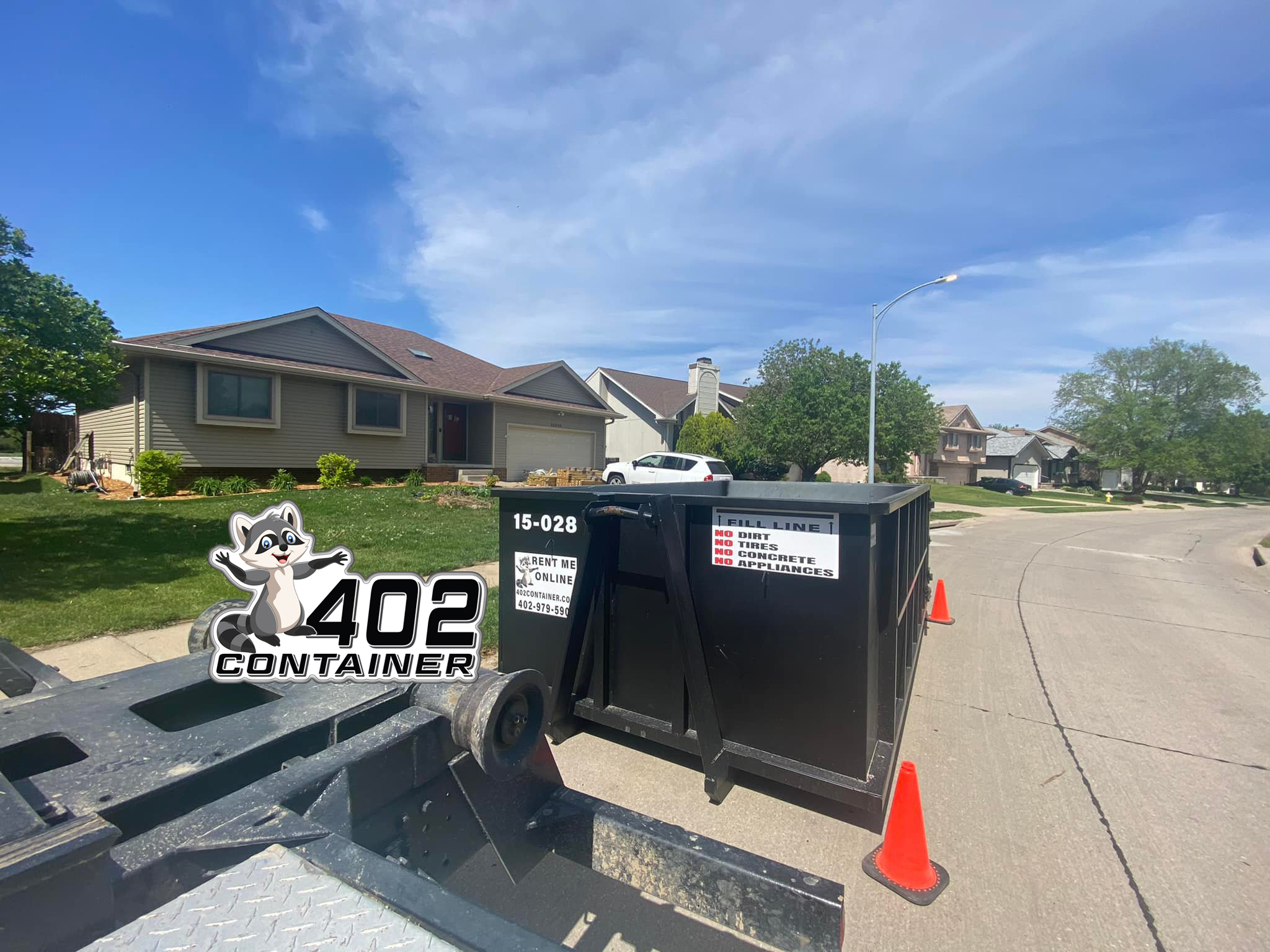 For Yard Waste Projects, Choose our Small Dumpster Rental Gretna
Our weather can be unpredictable and do lots of damage on our yards, which is where our small dumpster rental Gretna options come in to save the day. Whether you're cleaning up lots of brush and fallen tree debris, working on your landscape, or repairing the outside of your home, we're confident our small dumpster rental Gretna will support any of your outdoor yard projects.

We can't promise repairing the deck or cleaning out the gutters will be easy work, but we do promise on time delivery, excellent customer service, and affordable options. When you're ready to book a small dumpster rental Gretna NE for your yard waste, get in touch with us or book online today!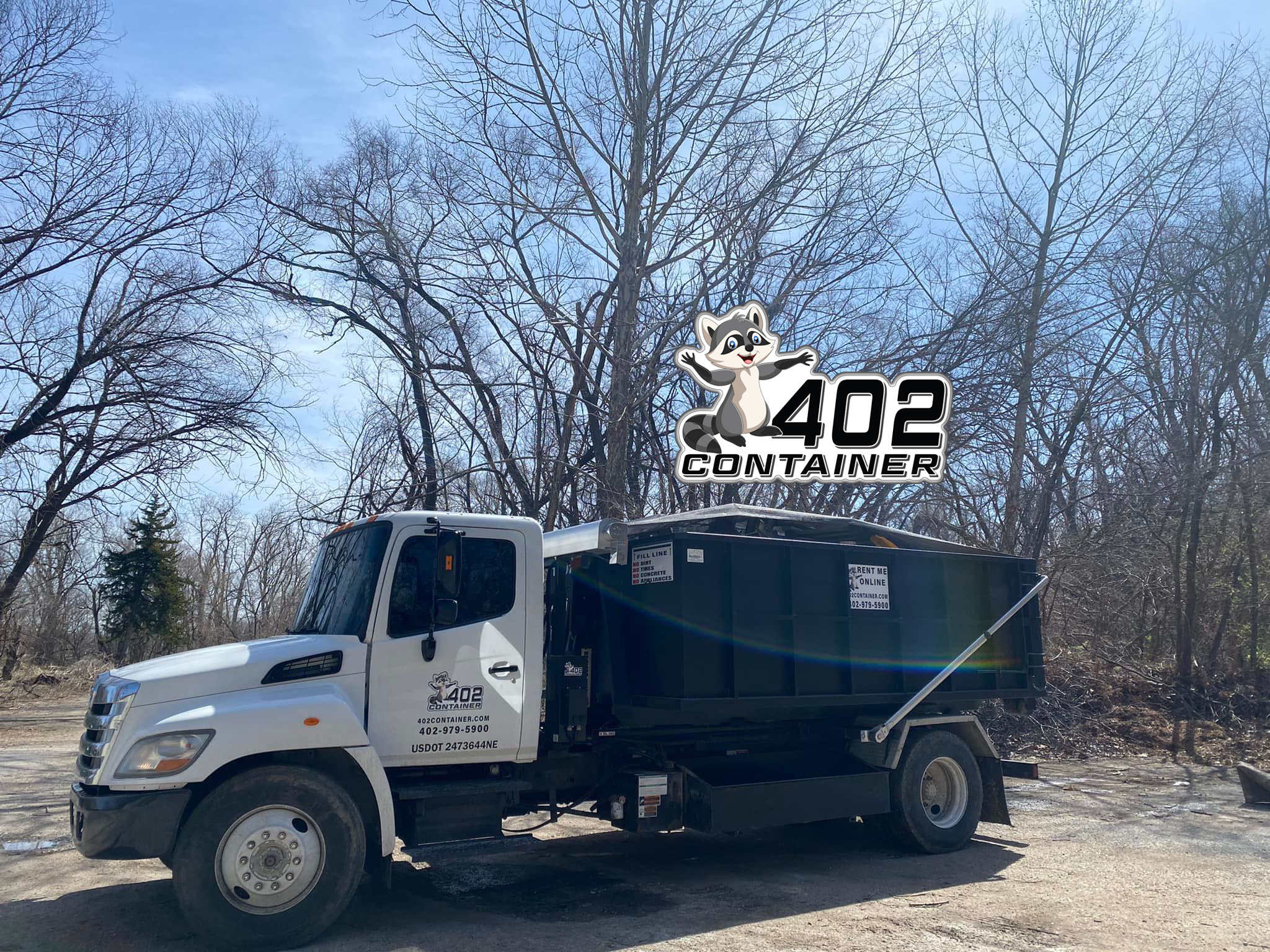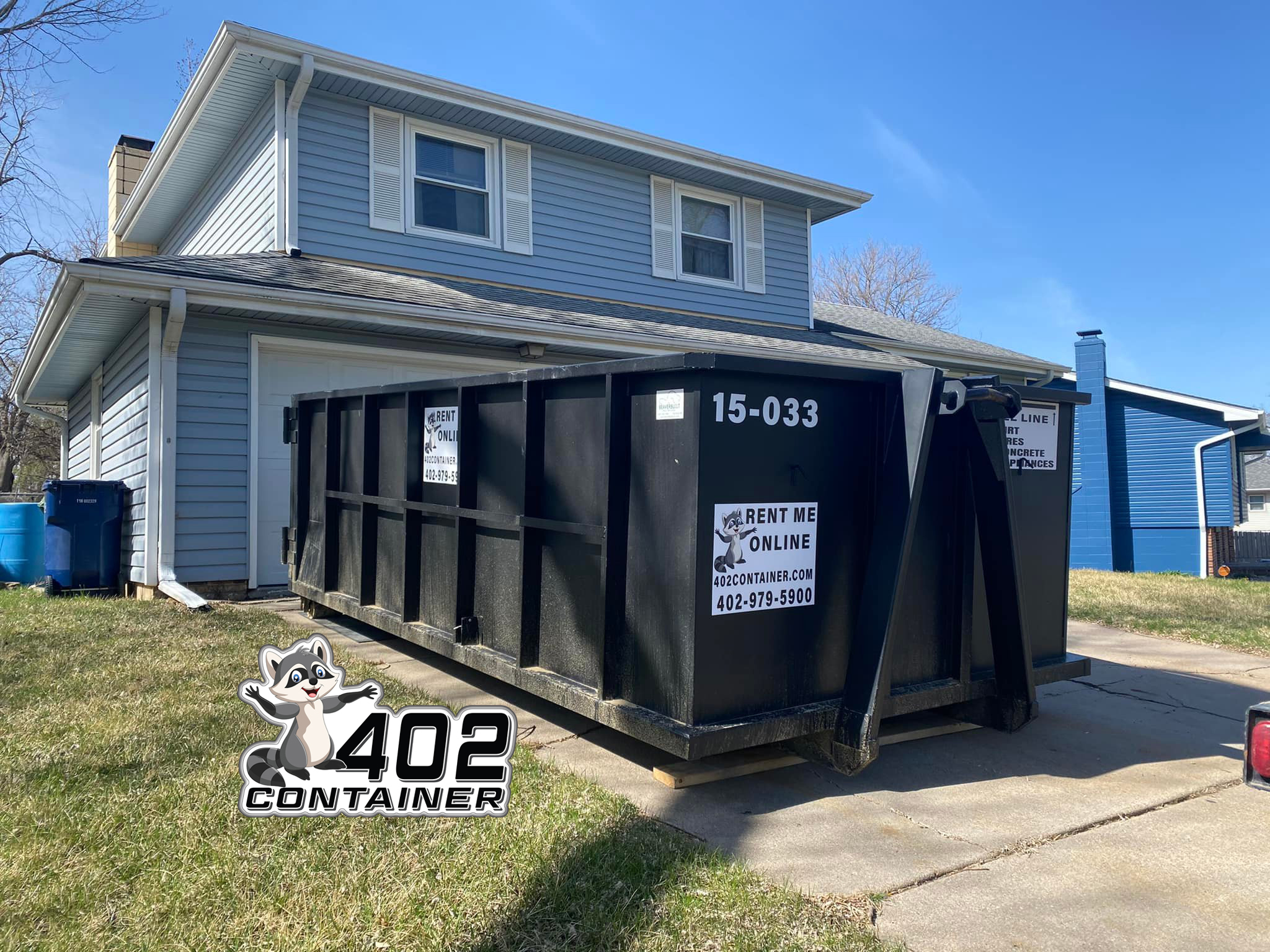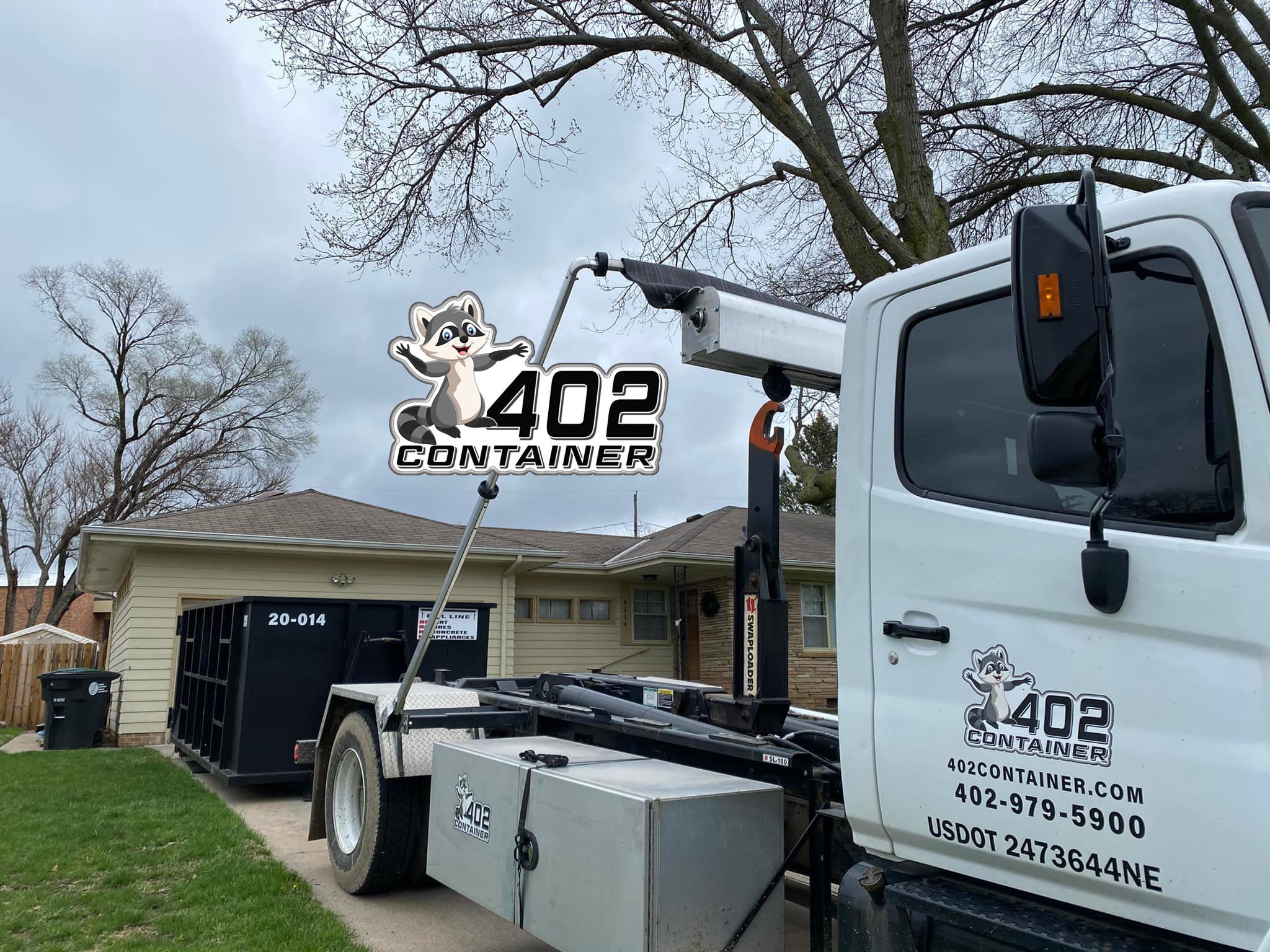 Construction Dumpster Rental Gretna Nebraska
Contractors understand how important it is to have a reliable, cost-effective dumpster rental Gretna on standby for all of your commercial development needs. We take great pride in partnering with demolition and construction managers to keep jobsites clean and waste-free. Our durable containers are perfect for hauling heavy construction waste, including wood, drywall, tile, roofing materials, and more.

We have three amazing construction dumpster Gretna options that we're confident will make a valued addition to any job site. Our 12, 15, or 20 yard dumpsters offer a range of options to suit any construction job. Designed specifically to handle industrial waste and construction materials, we've been the go-to choice of construction dumpster rental Gretna for contractors and other managers for years.

Whether you're in the early stages of planning for an upcoming development and want to have our dumpster rental Gretna options on stand by or need a container as soon as possible, we're here to help. When it comes to dumpsters in Gretna, there's no one better suited to meet your budget, timeframe, and project requirements than the team at 402 Container. As a locally owned and operated company, we value the needs of our customers who are also our community. Book your construction container online today!
Roll Off Dumpster Rental Gretna for Commercial Use
If you manage a property or business, our roll off dumpster rental Gretna will make a great addition to your commercial operations. Whether yo'ure seeking a short-term rental fora clean out or long-term maintenance needs, we're here to help. There are limitless reasons to choose our reliable, professional, and friendly team for your commercial waste needs. Whether you manage a living space like an apartment complex or retirement home, or run a small business, our Gretna dumpster options will help clean up and clear away the mess that businesses naturally accumulate.

Whatever your commercial roll off dumpster rental Gretna needs are, we're confident we can provide the affordable, convenient, professional services that will best suit your business. We're proud to regularly partner with business owners and managers to keep their places of work suitable for guests, customers, tenants, and employees with our roll off dumpsters Gretna options. Book your commercial dumpster online today!
Need help choosing the right service? Give us a Call: +1 402-979-5900
Rent A Dumpster Gretna Online Today!
If you're ready to rent a dumpster Gretna, book your containers online with us now! Scheduling our dumpster services is an easy and straightforward process. To being your dumpsters Gretna NE booking process, navigate to our "Dumpster Rental" page and browse our online inventory. Once you've picked the best size for your project, click the black "Book Now" button to view your dumpster's specific details. If you're happy with tthat size, click the black "Add to Cart" button.

At this point, you'll fill out contact and specific information about your rental then check out like any other online shopping experience. We'll send an email confirmation about your dumpster rental in Gretna and be in touch leading up to the rental period. Book anytime online 24/7! We make it as easy as possible to rent a dumpster Gretna from the comfort of your home.

If you need more information or have additional questions about how to rent dumpster Gretna, give us a call at (402) 979-5900 to speak with one of our team members about your options!


Variety of Dumpster Gretna Sizes
When it's time to think about the specifics of your project and choose the best size dumpster Gretna for your needs, we're here to assist and make sure you're choosing the best fit! View our list of dumpster Gretna NE options online and book your container today.

We offer three versatile roll off dumpster Gretna options that will suit a variety of residential, commercial, and construction needs. Take a look at our selections and book your container online today!

12 Yard Dumpster: This container is ideal for a wide variety of residential projects, including yard clean up, garage clean outs, single-room remodeling, and estate sale preparation. This container rents for $265, which includes up to seven days and 1.5 tons. Additional rent time and tonnage are available for purchase.

15 Yard Dumpster: The 15 yard is great for larger residential projects like hoarding clean outs or roofing repair projects, as well as commercial needs. If your business needs a trash dumpster rental Gretna, this is a great fit for your business needs. With up to seven days of rental and two tons of weight included, the 15 yard rents for $285.

20 Yard Dumpster: Our largest dumpster Gretna is ideal for commercial and construction projects. The 20 yard dumpster Gretna is guaranteed to fit all of your commercial waste. For all of your remodeling, development, and demolition needs, the 20 yard is the best dumpster rental Gretna for your construction projects.

If you're searching for dumpster rental Gretna pricing, look no further than 402 Container. We carry heavy-duty, versatile, affordable options that will help reach the goals of every project. Don't spend hours searching online for dumpsters for rent Gretna when our team of professionals is ready and available to guide you through this process with our range of options.

If you have any additional questions about dumpster rental Gretna NE prices, give our team a call at (402) 979-5900 to speak with one of our employees or book online today!
Providing Gretna Dumpster Rental in Surrounding Areas
When it's time to address the mess and have it hauled away, book one of our Gretna dumpster rentals to save time and energy on your next residential or commercial project. One of the best parts of our job is partnering with local businesses and homeowners to keep our city clean. We're proud to do our part in keeping our city beautiful and waste-free with our dumpster service Gretna.

Our service area for dumpster rental and haul away Gretna includes 68028. Don't see your zip code listed? No problem. Give us a call to see how we can offer our Gretna dumpster options to you today.

We're thrilled to over exceptional services in Gretna, NE and surrounding cities, including Omaha, Fremont, Waterloo, Valley, Ralston, La Vista, Bellevue, Papillion, and Bennington, as well as areas in between. We can, in certain circumstances, deliver our dumpsters Gretna Nebraska outside of our service areas, though additional delivery fees may apply. Get in touch with us to learn more about how our budget dumpster rental Gretna NE can solve your problems today.
Dumpsters Gretna FAQs
When renting dumpsters Gretna, you might have additional questions about our process, pricing, or services. Take a look at our frequently asked questions below and get in touch with us if you have any questions about our Gretna dumpster rental prices and options before getting started today.

1) What can be put in the container?

Our trash dumpsters Gretna can haul away many items, including carpet, lumber, drywall, furniture, mattresses, various household junk, shingles, and more! We cannot accept batteries, tires, liquids including gasoline, oil, or acids, asbestos, and certain appliances. Get in touch with us to learn more about the specifics of what can be hauled away in our dumpsters in Gretna NE.

2) How much does it cost to rent a dumpster?

We're happy to offer affordable dumpster rental Gretna options for every project. Our smallest rental, the 12 yard roll off, begins at $265 for a seven-day rental period. While you might be searching for a cheap dumpster rental Gretna NE, we don't just offer amazing, cost-effective prices, but we also prioritize stellar customer service, on time delivery, and a range of options.

3) What if all of my items don't fit in the container?

Sometimes there's more waste to haul away in our Gretna dumpster rentals than we originally planned, which is why we offer extended rental and tonnage add on options. Our containers are clearly marked with fill lines, so if your waste goes beyond that line, you can purchase additional weight or rental time to properly haul away 100% of your junk.

If you need further details before renting one of our dumpsters Gretna, give us a call at (402) 979-5900 to speak with one of our teammates and get your roll off booked today!
5-Star Reviewed Gretna NE Dumpster Rental Services
We're grateful to have made hundreds of repeat customers with our Gretna NE dumpster rental services over the years and we're ready to prove to you why we're the #1 trusted source of roll off containers in Sarpy County. Our variety of roll off dumpsters Gretna sizes will be a great asset to any project without breaking the bank. We're a professional, reliable, experienced team that's ready to make your life easier!

Our wonderful customers choose us again and again for their Gretna NE dumpster rental because we deliver on all of our promises each and every rental. So when you're looking for dumpsters for rent Gretna NE, look no further than 402 Container. Take a look at what our customer have to say about our 5-star services below:
Exciting Things To Do and See In Gretna, NE
Our team is dedicated to providing exceptional customer service and high-quality dumpsters to help you efficiently manage your waste materials. Gretna offers a range of activities and attractions for residents and visitors to enjoy. Whether you're seeking outdoor adventures or cultural experiences, this charming city has something for everyone. Explore the scenic trails of Schramm Park State Recreation Area, where you can hike, fish, and immerse yourself in the beauty of nature. Discover the history of the region at the Gretna Historical Museum, which showcases artifacts and exhibits that tell the story of the town's heritage.

Nature enthusiasts will appreciate the city's parks and green spaces. Spend a leisurely day at Gretna City Park, a beautiful park that offers playgrounds, sports fields, and picnic areas for family gatherings and outdoor fun. For those seeking outdoor recreation, Lake Waconda State Recreation Area provides opportunities for boating, fishing, and camping, offering a serene retreat from the hustle and bustle of everyday life.


The Landmarks and History of Gretna, Nebraska
Gretna is known for its small-town charm and friendly community. Explore the historic downtown area, where you'll find unique shops, boutiques, and cozy cafes. The Gretna Clock Tower, with its charming design and central location, serves as a gathering place for community events and adds to the town's character.

Gretna boasts several landmarks that contribute to its unique identity. The iconic Holy Name Catholic Church stands as a symbol of the town's rich religious heritage and offers a place for spiritual nourishment and community connection. Another notable landmark is the Ak-Sar-Ben Aquarium, a popular attraction where visitors can observe and learn about aquatic life from around the world.


The Culinary Scene and Community of Gretna, NE
When it comes to dining, Gretna offers a variety of culinary options. Indulge in delicious comfort food at Round the Bend Steakhouse or enjoy mouthwatering Mexican cuisine at El Vallarta. For those seeking a quick bite, Gretna's Family Restaurant serves up tasty diner-style fare.

Families moving to Gretna will find excellent schools and places of worship. Gretna Public Schools provide quality education and a supportive learning environment for students. There are also various churches in the area, such as New Life Baptist Church and St. Patrick Catholic Church, where you can find spiritual guidance and connect with the community.

As a locally owned and operated business, 402 Containers is dedicated to serving the residents of Gretna by offering dependable dumpster rental services for their construction, renovation, and clean-up projects. Learn more about how we can help you prioritize sustainability and environmental responsibility in the disposal of your waste by getting in touch with us today.
We Take Just About Everything
Some examples of the junk we haul away include
Refrigerator Disposal

Garbage Removal

Mattress Disposal

Foreclosure Clean Outs
Construction Waste Removal

Yard Waste Removal

Trash Removal

Appliance Removal
Television Disposal & Recycling

Furniture Removal

E-Waste Disposal

Hot Tub Disposal